Attract more customers to your car wash or mobile valeting business
The car wash market is a heavily saturated and hence attracting more customers and retaining current customers is vital. By joining GoWash you will be advertised for free on our app helping expand your car wash customer base and make it more convenient for your current customers to pay you!
Benefits of joining GoWash
As a GoWash location you will become part of a quickly expanding network of car wash locations, valeting/detailing centres and mobile valet operators. GoWash locations benefit from free advertising on the GoWash App which attracts more customers to your location who can now pay through a more convenient means! GoWash can enhance your business by: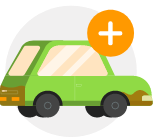 Expand your customer base
Open up your site to even more customers! Gain access to business and national accounts using the GoWash app.

Free advertising
You will be listed free-of-charge on the app, our online map and on all marketing material, putting your site at the fingertips of potential customers!

Cash is a thing of the past
It's rare someone has cash these days. Accept Apple Pay, Google Pay and all major credit/debit cards; giving your customers the gift of choice.

Regular payments
We pay you weekly for any GoWash app transactions and with our automated invoicing system, there is no admin on your part!

It's free!
Joining GoWash is free, there are no leaving fees, monthly fees or franchise fees. You simply pay 5% (inc VAT) on any payment made through the app!

Easy bookkeeping
Our online portal makes it easy to view and download all transactions from wherever you are!
Quick enquiry
Want more information? Have a question? Fill out the form below and we'll be in touch.